Buy More Poptones until April 29th & save even more than the featured 10% discount.
When you purchase $100 worth of FRENCH POPTONE products, you qualify for another $10 discount. Just add COUPON CODE: POP in the coupon field and $10 will be deducted, now through April 29, 2008.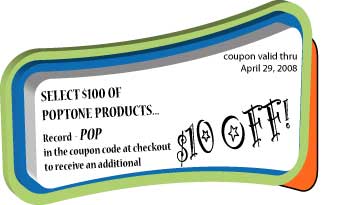 Don't forget...Domestic customers already receive free ground freight over $100, Poptones are already discounted at 10% off regular price (limited time) & now you can take another $10 off if you purchase $100 worth of Poptone products.
We have just stocked our poptone colors and now carry all 24 colors in 8 1/2 x 11 Text Sheets, 8 1/2 x 11 Cover Sheets and Popular Envelope sizes, A1, A2, A6 & A7. We stock #10 Square Flaps & 6x9 Booklets in limited colors. As of today, we have added quantity discounts to our Poptone A2, A6 & A7 Envelopes. Another reason to stock up.
Convenient Site Add-ons...
New conveniences added to our site is the WISH LIST. Since the WISH LIST is a separate login than the ACCOUNT login, we recommend our customers to setup your logins to be the same to help eliminate confusion when the site asks you to login. The WISH LIST is a powerful system that will allow you to save several items to purchase later or at several different dates. Be sure to set your WISH LIST to be 'private' unless you want your list to be viewed by other, make the list 'public'. Please feel free to contact us if you need help with this new plug-in.
We've been updating our clearance and watching things wisp on by. Hope you are finding useful clearance products to complete your exciting projects!
Looking ahead...
We are adding the new MOAB line by Legion in the near future. This will provide great 'inkjet' solutions to those in need of 'glossy inkjet' paper or a fine 'felt' inkjet card. Looking forward to adding this new line within the next 30 days. We hope you are as excited as we are to offer this excellent solution to our inkjet users.