Features - FULL OF COLOR
New HUSKY - The cost conscious choice
Stay current with Product updates
Designer showcase - New additions
Private Sale - Expires Oct. 30th
Ongoing SHIPPING INCENTIVES

COLOR...Stunning, Inspired, Creative10% OFF GLISTEN & TEXTURES, by Wausau.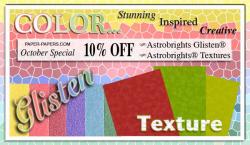 Expires October 31, 2008
October Special
Wausau Astrobrights Glisten and Textures...
Beautiful, inspiring designer series by Wausau papers.
Glistens boast 6 vibrant colors coated with pearlescent sheen, available in 2 weights, various sizes, & an excellent announcement envelope selection. Textures are the newest addition of this designer series, available in 3 colors with a unique hammered, textured finish. 
Husky Paper and Envelopes
Newly added Husky Paper and Envelopes is an excellent choice for mass mailing, high volume usage. Husky Offset will go the distance without exhausting your budget.
* 92 brightness with a pleasing blue-white shade
* SFI-certified
* Smooth, uniform surface for better resolution
* Chlorine free/Acid-free for archival quality
Paper-Papers Product UpdatesDue to the ever changing industry of paper and envelopes, we are constantly working towards keeping our customers informed. Here you will find Paper-Papers.com active list of product changes. www.envelopesandpaper.com
Designer's Showcase.
View the wonderful creations of many designers!
Would you like to show us your creations?

(Accepting submissions until October 20th)
Submission Requirements:
Email submissions to submit@paper-papers.com (include SHOWCASE in the subject line)
Explain how you used a product (or products) from Paper-Papers to create your design.
Be brand specific (example: I used Stardream Bronze Cover to create...)
By submitting your design, you authorize Paper-Papers to display your work
Inform us of information you would like us to display about your creation. (Company name, physical addy, web addy, email, personal contact, etc)
Submissions must be received by October 20, 2008


Private Sale - Secret coupon
10% Off Royal Fiber and Astrobrights Paper
Must use
  COUPON CODE: royal
(LIMITED TIME...expires October 30, 2008)
Coupon valid for:
Astrobrights Paper - 8.5" x 11, 8.5" x 14, 11" x 17, 23" x 35" (does not apply to Designer Series)
Royal Fiber Paper - 8.5" x 11, 11" x 17, 23" x 35"
Shipping Incentives OVER $100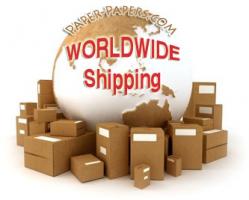 WORLDWIDE Shipping Incentives... The most exciting change has been our "Shipping Incentive Discount". We finally are able to offer an incentive that reaches out to ALL our customers across the Globe!
Paper-Papers has retired our 'Free Domestic Shipping' as of Septemer 2008. Upon retiring the old, we have brought in the NEW! New SHIPPING INCENTIVE PROGRAM - All orders over $100 will earn an immediate 10% off.
ALL CUSTOMERS QUALIFY: Domestic, AK, HI, PR, APO and International.

Discounts are calculated immediately at checkout.
No special buttons to hit - Just an easy 10% Off (maximum discount $300)
  --Orders over $3000, contact Customer Service for special pricing
  --Shipping incentive program does not apply to "Special Quotes" or "Wholesale".
We'd love to hear from you. Please feel free to share your feedback and suggestions!
Sincerely,

Lori

and The Team at Paper-Papers